Chemical Peels for Younger, Smoother Skin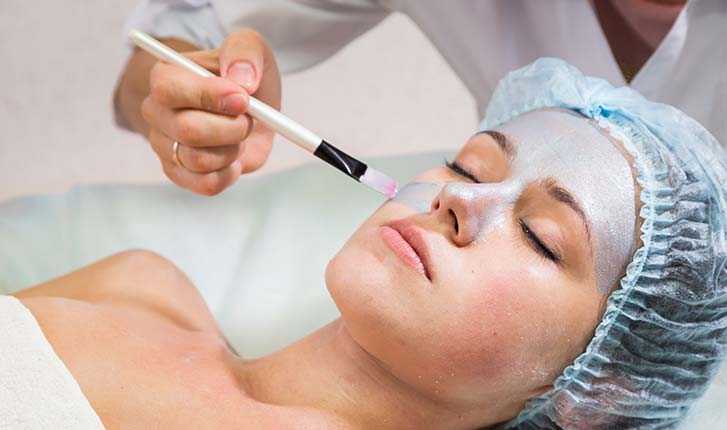 Chemical Peels For a Younger-Looking You
As we age, our skin can become damaged due to overexposure to the sun and environmental toxins. Our skin may suffer pigmentation, scars, acne, wrinkles, or other kinds of undesired marks upon the face or neck. To resolve this, you may resort to spending a considerable amount on skincare products with high claims and unsatisfactory results. When it comes to facial chemical peels, however, the results are guaranteed.
What is a Chemical Peel?
Chemical peels, also known as chemexfoliation or derma peels, are used to improve the appearance of the skin on the face, neck, or hands. A chemical solution is applied to exfoliate dead cells from the skin, encouraging new, regenerated skin to surface. As a result, the new skin is visibly smoother and less wrinkled.
Chemical peels commonly fall into one of three categories: light, medium, or deep.
Light peels, also known as superficial or lunchtime peels, use alpha-hydroxy acid or another mild acid to penetrate only the outermost layer of skin. This gently exfoliates the skin while improving the appearance of mild skin discoloration and rough patches.
Medium peels use glycolic or trichloroacetic acid to penetrate the outer and middle layers of skin to remove damaged skin cells. The treatment is specifically used to improve age spots, fine lines and wrinkles, freckles, and moderate skin discoloration. It can also be used to smooth rough skin and treat precancerous skin growths.
Deep peels use trichloroacetic acid or phenol to penetrate the middle layer of the skin to remove damaged skin cells. This treatment is used to remove moderate lines, age spots, freckles, and shallow scars. This will result in the most visible improvement in your skin's appearance, and can only be used on the face and performed only once.
The Chemical Peel Procedure
A chemical peel can be done in a doctor's office or in a surgery center, and is usually an outpatient procedure. During the procedure, the professional will first clean your skin thoroughly.
Then he or she will apply one or more chemical solutions—such as glycolic acid, trichloroacetic acid, salicylic acid, or lactic acid—to small areas of your skin. During this process, controlled exfoliation is performed, allowing fresh skin to surface.
This may result in a burning sensation that lasts about five to ten minutes, followed by a stinging sensation. To ease this discomfort, a cool compression may be applied. For deep peels, pain medication may be needed during or after the treatment.
How Do I Prepare for a Chemical Peel Procedure?
Pre-treatment instructions will be provided by your skincare professional or plastic surgeon. Prior to your scheduled appointment, you will need to disclose your medical history. Information you may be asked to provide includes:
Prescribed medications for severe acne, such as Isotretinoin
History of medications including antibiotics, acne medicine, etc
History and frequency of cold sores
History of herbs, vitamins, and minerals you take
On the day of your procedure, come prepared with a clean face free of makeup and/or skincare products.
What are the Risks and Benefits?
A chemical peel is one of the least invasive ways to improve the appearance of your skin. Benefits include the correction of:
Acne or acne scars
Age or liver spots
Fine lines and wrinkles
Freckles
Uneven skin pigmentation
Rough skin and patches
Sun damage
A chemical peel will not treat the following:
Deep facial lines
Loose or sagging skin
Pore size
Deep scars
A chemical peel is not recommended for individuals with infections, active skin disease, cut or broken skin, sunburn, or active herpes simplex 1 sores. Poor candidates also include patients who are:
Nursing or pregnant
Have used Retin-A, Renova, prescription skincare products or products that contain ascorbic acid, and/or bleaching or skin-lightening agents in the last 48 hours
Have taken Accutane in the last six months
Have psoriasis, eczema, dermatitis, or rosacea
Risks may include:
Temporary or permanent change in skin color, particularly for women on birth control pills
Reactivation of cold sores
Scarring
What Should I Expect When Recovering From a Chemical Peel?
Depending on the chemical peel, post operational care and recovery instructions may vary. Prepare to expect the following:
Light peels require 1-7 days to heal. Post-treatment, the skin will initially be red and may flake. Lotion or cream should be applied until the skin heals, followed by daily use of sunscreen. Makeup can be worn the next day.
Medium peels require 7-14 days to heal. Post-treatment, the skin will initially be red and swollen, and may worsen within the first 48 hours. Eyelids may swell shut, and blisters may form and break. Aftercare will require skin to be soaked daily for specific periods of time, followed by ointment application.
Antiviral medication is also taken for 10-14 days, and a mild lotion or cream may be applied. Makeup may be worn after five to seven days, and sun exposure needs to remain minimal until healing is complete. Lastly, a follow-up appointment will be necessary to monitor progress.
Deep peels require 14-21 days to heal. Post-treatment, the skin will be bandaged. Aftercare will require the skin to be soaked 4-6 times daily, followed by ointment application for the first 14 days.
Afterwards, a thick moisturizer is needed for the next 14 days. Anti-viral medication is also taken for the first 10-14 days, and mild lotion or cream may be applied. Makeup may be worn after 14 days, but avoid all sun exposure for 3-6 months. Lastly, several follow-up appointments will be necessary to monitor progress.
Schedule a Consultation
Don't let imperfections and the signs of aging dampen your confidence.  A chemical peel can restore youth and radiance to your complexion, leaving you feeling beautiful and rejuvenated. Schedule a consultation with Dr. Binder today to determine which chemical peel is best suited for your skin.
For this and all related skincare questions, contact Dr. Binder and his staff today.