Remove Wrinkles with Facial Fillers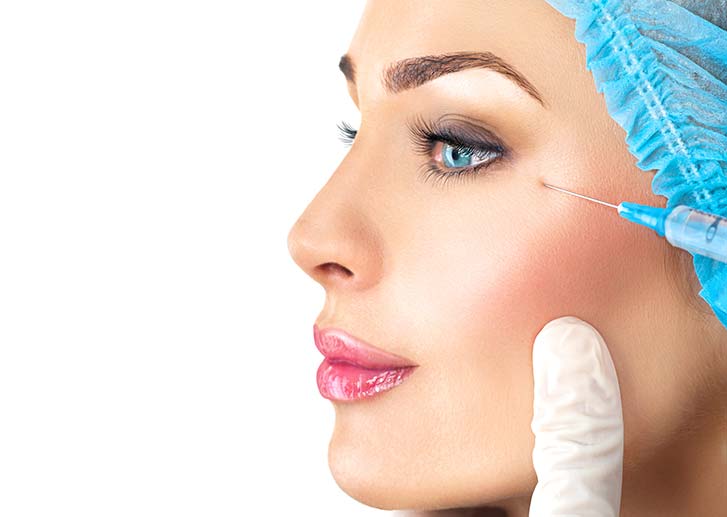 Restore Volume and Fullness with Facial Fillers
As we age, we naturally lose skin elasticity and become more susceptible to wrinkles and skin damage. Facial fillers have emerged as a popular treatment to fill in fine lines and wrinkles. It can breathe life into aging skin for a more youthful look, and restore volume and fullness to the face.
If you're dissatisfied with an aging complexion, facial fillers are an ideal solution for regaining a youthful glow without the inconvenience of a facelift.
What are Facial Fillers?
Facial fillers, also known as dermal fillers, are temporary to long-lasting wrinkle solutions administered through injections to specific areas of concern on the face. There are various types of facial fillers, each designed with purposes such as wrinkle reduction or lip augmentation.
Botox
Botox, made from refined botulinum toxin, is proven to be successful at treating fine lines and wrinkles on the forehead and around the eyes. By relaxing over-worked muscles, this facial filler causes the skin covering these areas to smooth out. It is not recommended for frown lines, since the muscle relaxation can cause slurred speech and drooling.
Hyaluronic Acid
Hyaluronic acid, one of the most commonly used fillers, can plump thin lips and hollowed under-eyes; fill facial wrinkles, acne and post-surgery scars; and fill creases such as smile lines. It is a naturally-occurring substance in the skin that enhances volume and hydration. The filler is synthetically produced to simulate the hyaluronic acid we produce naturally. The results are immediate and last from 12 to 16 months.
Two well-known brand names of hyaluronic acid are Juvederm and Restylane. Juvederm is made of a hyaluronic acid gel that is specifically designed to temporarily correct moderate to severe facial wrinkles and folds. Restylane is a non-animal, bio-degradable gel composed of hyaluronic acid. It is used to add volume to the skin through tiny injections, and specializes in smoothing facial folds and wrinkles in areas around the mouth and eyes.
Perlane has a higher concentration of hyaluronic acid, and is better suited for deep lines around the eyes and forehead. This facial filler generally lasts longer than Restylane, and results may vary between individuals. It is also a preferred lip enhancement solution.
Collagen
CosmoPlast, made of natural collagen, is a natural treatment used for deep lines around the eyes, forehead, and mouth. It can also be used as a lip augmentation filler.
 What are the Risks and Benefits?
Facial fillers can be used for multiple purposes:
Adding volume and smoothing out deep facial creases
Plumping thin lips and smoothing out fine lines
Augmenting cheeks to enhance their shape
Filling out depressions under the eye area
Facial fillers are not recommended for those with inflamed or infected skin, pimples, cysts, rashes, or hives. If you are pregnant or have a bleeding disorder, a tendency of excessive scarring, or a history of severe allergies, then facial fillers are likely not for you.
Benefits of facial fillers include:
Immediate and long-lasting results
Non-surgical procedure
No downtime for recovery
No anesthesia required
Risks may include bruising, redness, pain, or itching. In rare cases, there may be infections or allergic reactions. If performed professionally, these risks are minimal.
The Facial Filler Procedure
Facial filler treatments are outpatient procedures. To prepare, topical skin anesthetics can be applied to make you more comfortable during the injections. The cream is applied on the skin for 30 to 40 minutes prior to your scheduled appointment. In addition to making you more comfortable, the topical skin anesthetic decreases the chance of bruising by temporarily constricting blood vessels.
How Do I Prepare?
Facial filler treatment injections can result in bruising and swelling. To minimize this, you should:
Avoid aspirin, Excedrin, ibuprofen, Aleve, or Advil for 1 week before and 2 days after the procedure. Tylenol is the exception.
Avoid Vitamin E for 2 to 3 days before and after the procedure. Multivitamins are the exception.
Avoid strenuous activity for 24 hours following the procedure.
Care and Recovery
Post-procedure, you may experience mild swelling or bruising, tenderness, itching, temporary numbness, and/or redness. These conditions can be alleviated with topical icing and will improve within 7 to 14 days. In general, there is little-to-no downtime.
If you do experience any bruising or swelling, your medical professional may advise you to prohibit alcohol consumption, and to discontinue use of vitamin E, aspirin, herbal supplements, and anti-inflammatory medications such as ibuprofen.
Avoid strenuous activity 24 to 48 hours after treatment, as this would increase the heart rate and blood flow, thus leading to prolonged swelling. Minimize excessive sun exposure until the swelling has subsided.
Schedule a Consultation
If wrinkles and fine lines are contributing to an unpleasant aging experience, facial fillers are a simple and effective way to restore fullness to your face and allow you to age gracefully.
Schedule a consultation with Dr. Binder today to determine if facial filler treatments are the best fit to fulfill your needs and desires. For this and all cosmetic questions, contact Dr. Binder and his caring staff today.