Smoking and Plastic Surgery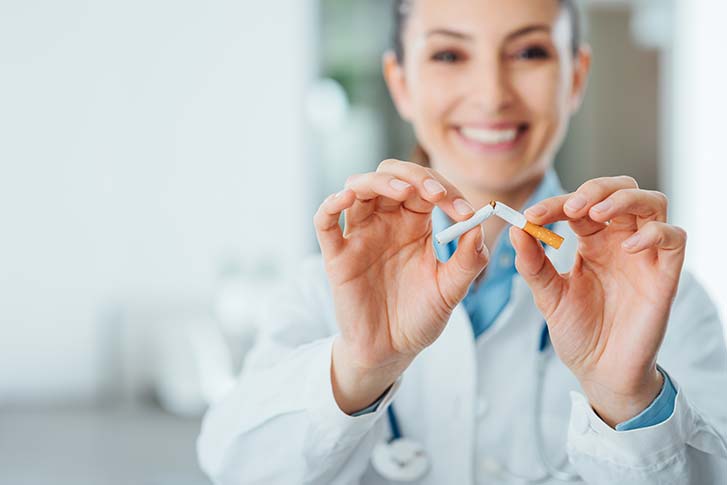 Smoking and Plastic Surgery: What to Consider
To attain optimal results from plastic surgery, you must first eliminate and remove those things in your life that could negatively impact the success of the procedure and recovery. One of these things is smoking.
Plastic surgery lives on the edge of blood supply, and smoking can wreak havoc during your surgical operations. The success of the surgery may dictate that you quit smoking weeks in advance of your surgery.
Smoking has a number of negative effects on the body that can largely disrupt the surgical procedure and recovery process.
Here is a look at key identifiers and challenges that smoking can cause on plastic surgery procedures.
Effects of Smoking on Anesthesia
During the plastic surgery procedure, breathing is the most challenging issue for anesthesiologists. Smoking generally results in weaker and damaged lungs, which can cause breathing concerns while the procedure is in process.
Compared with non-smokers, smokers need 33% more anesthesia throughout the operation and an additional 23% more pain medication after their procedure to achieve the same results.
Those who didn't smoke, but were exposed to secondhand smoke, also required 20% more anesthesia and 18% more pain medication than non-smokers who weren't exposed.
Key Concerns During Surgery
Plastic surgery lives on the edge of blood supply. During these operations, surgeons are operating at the limit of what the circulation of the skin and other tissues will allow. But, in order to have adequate circulation, blood flow through vessels must be sufficient.
Certain things have negative effects on the circulatory system and blood supply, and of them all, smoking is the worst.
Smokers who undergo surgery have an increased risk of experiencing some form of oxygen shortage, developing blood clots and contracting an infection. These risks, however, can be mitigated by quitting smoking well in advance of surgery. How far in advance — that is determined by your plastic surgeon.
Certain procedures, however, involve increased pulling or altering of blood supply. Thus, increasing the risk for a smoker. These procedures include face lifts, tummy tucks and the use of tissue flaps in reconstructive surgery.
In these cases, plastic surgeons may recommend alternative treatments or advise otherwise.
Smoking Delays Healing and Recovery
Smoking significantly delays the healing and recovery process, largely due to nicotine. Research has demonstrated that nicotine forces the blood vessels to tighten and damage the blood vessels. Thus, damaged and tightened blood vessels directly impact blood flow, requiring an extended duration of recovery.
The healing process requires normal blood circulation to help the body heal and recover properly. The chemicals in cigarettes, however, contain elements that make blood stickier and more likely to clot, thus clogging capillaries and blood vessels.
Smoking Ages You
Aside from the negative effects of smoking during the surgical procedure and recovery, plastic surgery and smoking don't mix well because their reactions vastly differentiate in the body. While the goal of plastic surgery is often to make you look younger, smoking speeds up the aging process.
Negative effects of smoking that impact blood circulation restricts the skin from receiving the nutrients it needs. Additionally, the chemicals in tobacco products and smoke damage your skin by damaging elastin and collagen.
The damage results in loss of elasticity, resilience and volume in our skin – reversing the results of the surgical procedure or treatment.
Are E-Cigarettes Safe?
The exploding popularity of e-cigarettes has earned the trend of the year. Now used as a tobacco alternative, e-cigarettes are assumed to be less hazardous to our health than traditional cigarettes. But the risks are largely unknown.
Although e-cigarettes do not contain tobacco or produce cigarette smoke, they do use a liquid that contains nicotine, which is inhaled in the form of an aerosol. While it is a safer alternative to burning and inhaling tobacco, e-smokers are still taking in comparable levels of nicotine.
Nicotine can negatively impact the body's ability to heal, thus increasing risks of blood clots and negative reactions with prescribed medication.
Schedule a Consultation
Smoking is a negative player in attaining the results you desire from plastic surgery. That is not said to discourage you from your goals, however. Schedule a consultation with Dr. Binder today to review your goals, to discuss how to quit smoking and your options, and to share his thoughts on the minimum length of time required to be smoke-free before surgery. Options are available, and we're here to help you find the perfect fit.
Related Posts: