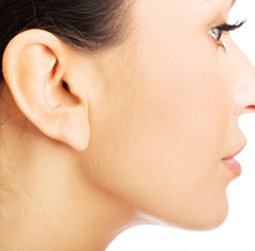 Otoplasty Boosts Self-Esteem
We all have unique features that may cause us insecurity. For some people, this feature is their prominent or protruding ears. Prominent ears can be the result of genetics or developmental conditions, which cause the ears to stick out or develop a dissatisfying shape or size. Although this condition has no effect on hearing, it can cause social and psychological strain leading to poor self-esteem and insecurity. Fortunately, Dr. Binder can shape your ears to perfection through a procedure called otoplasty. This surgical procedure corrects the appearance of the ears, sculpting them into a much more favorable appearance.
What is Otoplasty?
Prominent or unflattering ears can easily be corrected with the help of a good plastic surgeon. As with any procedure, it's important to first meet with Dr. Binder for a consultation to discuss your specific concerns, as well as the results you desire. This will also allow you to learn in detail how to prepare for both the surgery and recovery process, if you choose to go ahead with the procedure.
Otoplasty is a simple procedure that only takes about 1-2 hours, and is performed under light general anesthesia administered by a licensed anesthesiologist. Although there are various methods to performing otoplasty, Dr. Binder's preference is a technique which addresses the specific elements of the ear deformity. It begins with an incision made behind the patient's ear in order to expose the cartilage. The doctor will carefully carve portions of the ear cartilage, reshaping and reducing cartilage to create a more aesthetically pleasing form. Permanent sutures are placed in the cartilage to create a secure and more appealing shape. A comfortable cotton cast and large dressing are used to gently protect the ears for several days following the procedure.
Patients can expect some minimal discomfort after having otoplasty. A follow up appointment will be scheduled for a week later in order to remove the skin sutures used during the procedure. As a result of the surgery, a slight scar may be left but will easily be hidden within the natural creases of the ear, making it unlikely to be noticed.
 Is Otoplasty Safe For My Child?
It's only natural for parents to have concerns about whether or not this procedure would be appropriate for their children. Parents will want to know if otoplasty is safe and when they should consider it an option for their child.
Although otoplasty is a safe and viable option for people of any age, children are often the most likely candidates. This procedure is recommended any time after the age of 4 or 5, securing the patient more permanent results from the surgery. This is in fact an ideal age since the cartilage in children is much more flexible than that of adults, which allows greater ease when reshaping the ear.
Parents often opt to have this procedure performed on their preschool-aged children, in order to lessen the risk of potential teasing or undue emotional stress that may be experienced due to unsightly ears. Although bullying over a child's physical appearance is definitely a cause for concern, the real issue is the self-esteem that is formed at an early age. A positive self-image has numerous benefits to a child, including the ability to cope with various social situations and to resist negative pressures from their peers. This enables the child to be in a better position when dealing with potential conflicts and problems that arise in the classroom.
Am I Too Old For Otoplasty?
Otoplasty is a procedure that can be done at any age. It is never too late to have a consultation with Dr. Binder to discuss your concerns and learn more about what the procedure can do to improve your appearance. Just as with any cosmetic procedure, otoplasty is designed to improve the self-esteem and overall well-being of the patient. It's simple, safe, and effective—patients will see a noticeable difference in their appearance after the procedure. For assurance, take a look at some of the wonderful results other patients have already achieved through otoplasty with Dr. Binder.
Schedule a Consultation with Dr. Binder
If unsightly ears have been a source of insecurity for you or your child, schedule a consultation with Dr. Binder today to discuss what otoplasty can do for you.
Dr. Binder has the experience and expertise to answer any questions you may have, and ultimately achieve the results you desire. For this and all cosmetic surgery questions, contact Dr. Binder and his caring staff today.